The perfect ally for beautiful skin

In recent years there has been a marked growth in holistic approaches to health and beauty. The nutricosmetic market is particularly dynamic, with a predicted CAGR of 8.7% between 2019 and 2025 (1). Natural ingredients are in high demand as shown by the exponential growth in the consumption of collagen supplements in the "beauty from within" sector. Collagen of marine origin is among the strong trends, in part due to its lower environmental impact. Indeed, the marine collagen market is expected to have a strong and sustained CAGR in the coming years.
The consumption of fish products has increased in many countries, particularly among populations wishing to reduce their consumption of beef or pork, or due to religious or cultural preferences.
High quality fish collagen peptides
Collagen is a major component of the human body – making up about 30 % of our total protein.
Naticol® marine collagen peptides are obtained from the collagen naturally occurring in fish skin, through a unique specific enzymatic hydrolysis process.
With a protein content of over 99% on dry matter, Naticol® products are among the purest collagen peptides on the market, and offer a premium neutral sensory profile.
Carried out in Europe, Weishardt's innovative proprietary process creates small peptides with a specific amino-acid profile and a unique molecular weight distribution. They are therefore highly bioavailable and can be rapidly absorbed by the body. Thanks to these properties, Naticol® is now widely included in formulations targeting skin beauty and healthy ageing.
Skin beauty benefits
Collagen is an important part of the composition of the skin and, as part of our bodily structure, it is affected by aging. Mature skins show a decline in the production of collagen along with an increase in its degradation. Oral supplementation is an effective way to counterbalance the effects of time and to preserve a young appearance. Indeed, several studies have shown that collagen peptides intake reinforces the internal production of collagen and hyaluronic acid, it improves skin architecture and hydration, and provides protection against extrinsic aging factors (2).
Through several independent scientific studies, Naticol® marine collagen peptides prove their effectiveness in attenuating signs of skin aging. Naticol®, is clinically substantiated to improve skin elasticity and reduce wrinkles. For instance, skin wrinkles and firmness are respectively improved by 11% and 20% after a daily oral intake of 5g of Naticol® for a period of 8 weeks (Figures A, B) (3).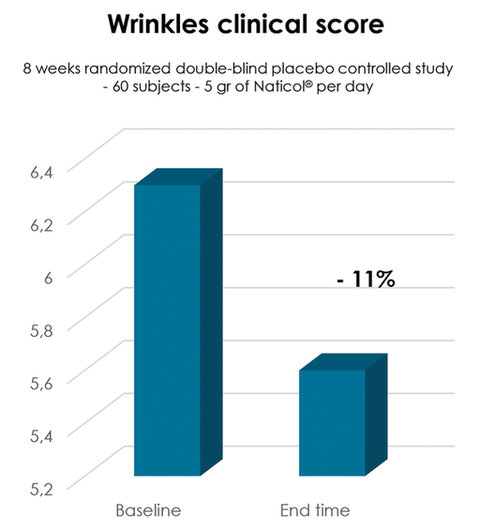 Figure A. Naticol® reduces wrinkles.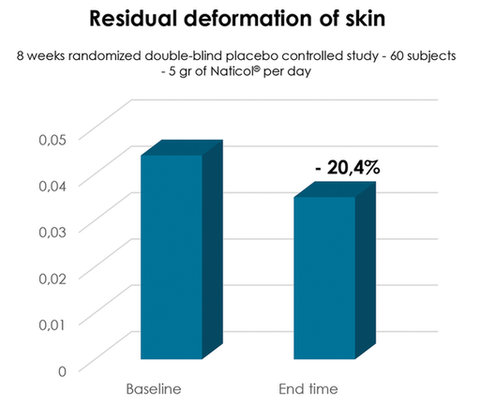 Figure B. Naticol® reduces residual deformation reflecting an increase in firmness and elasticity of the skin.
New additional benefits for skin beauty
Always going the extra mile to support their customers, Weishardt and its French partner BCF Life Sciences have recently developed a new bioactive complex, Naticol®-Cyskin®, to drive innovation and offer enhanced skin beauty benefits thanks to a unique production technology and the synergy of two active ingredients.
Naticol®-Cyskin® combines Naticol® and a natural and purified form of L-Cystine produced by BCF Life Sciences, clinically proven to have benefits on hair and nails.
Naticol®-Cyskin® has demonstrated its efficacy in skin replumping (+10%), skin lightening (+4%) and in decreasing skin sensitivity to UV exposure (-15%) and skin imperfections (-8%). It is the perfect beauty ingredient designed for men and women with mature and sensitive skins including imperfections and acne.
Additional scientific results show that pure Naticol® fish collagen peptides are also beneficial for joint, bone, muscles and gut health.
Rapid and total dissolution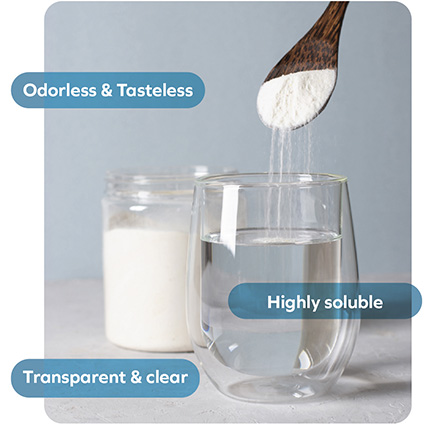 The Naticol® range is designed for food supplements as well as functional foods and beverages, and it comprises several varieties to cater for specific needs. Out of the 2 powder forms, Naticol® instant powder is the perfect ingredient to prepare drinks, smoothies and many food products, thanks to its rapid and high dissolution properties. The instant powder form is increasingly popular.
A sustainable product
Naticol® is a key player in the circular economy. Weishardt upcycles fish skins which would otherwise be discarded by the fish fillet industry to produce a premium value added product.
All fish skins originate from sustainable species and are sourced from a diverse range of geographical areas.
Thanks to these efforts and commitments Weishardt's Naticol® range has been awarded the Friend of the Sea® sustainable development label.
Weishardt, 180 years of expertise
Based in France, Weishardt is one of the world's leading manufacturers of high quality gelatine for the food and pharmaceutical industries. With its innovative Naticol® brand, it is becoming a major supplier of marine collagen for the health and beauty sector. The company's reputation is founded on demonstrating consistent product quality and food safety throughout its 180 year history.