Start-ups innovation
— Column
Insect powder as added value in pralines
You have probably heard that the world population is growing and, according to the UN, it will reach 10 billion people by 2057. FAO decleares that we will need 70% more food.
Therefore, we urgently need sustainable solutions for our food system to provide healthy products and a healthy planet. We should consider insects on our dinner plates as they are a great source of nutrition – protein with all essential amino acids, minerals, and omega fats. Moreover, insects are sustainable as they need less feed, space, and water for farming.
State of the art/Analogs
The consumption of insects has been part of human history. It is nothing new in Asia, Africa, Latin America, and Australia, but the insect food industry in Europe is in its infant stage. Nevertheless, the growing demand for high-protein food especially sports nutrition, creates further opportunities for the insect sector. As the insects as ingredients are under novel food regulation, most available insect-containing products in the EU market are made of whole dried insects or dried insect powder, such as protein bars, pasta, meat alternatives, and other functional foods.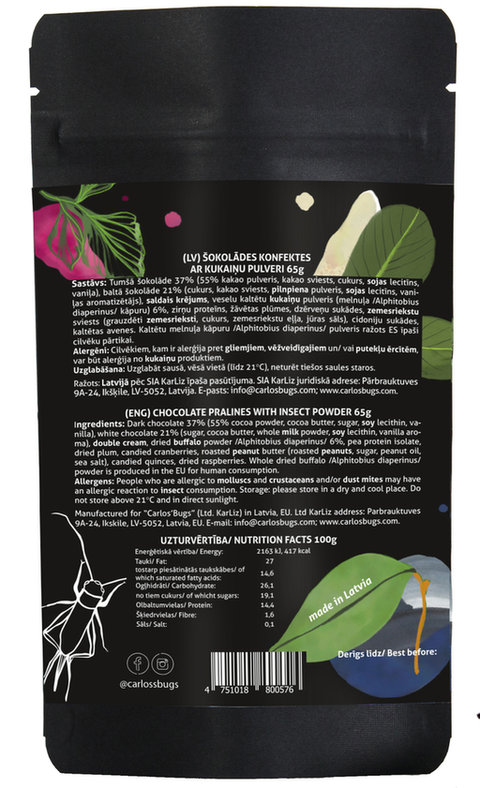 What made you decide to open the start-up? Have you conducted a market assessment?
I have been researching insects in the food industry since 2017, and I believe in the nutritional, sustainable, and economic value edible insects provide. As the first insect manufacturer was approved by EFSA and European Commission in 2021, it was a huge milestone and assurance that this is big! And I took the opportunity for Carlos'Bugs to be one of the pioneers by creating food products made of insects that are good for us.
According to Cordis EU research results (1) "Europe's plant-based food industry grew 49 % overall in 2018-2020, amounting to a total sales value of EUR 3.6 billion". I see that alternative meat, dairy, and fish products are no longer a novelty; it is just a matter of time before insects are broadly included in our food system.
I researched "Latvian's willingness to consume insects" during my Master's studies in 2020, and the results showed that 36% of 913 survey participants would eat insects daily. Several research papers in the EU shows similar results.
And according to a forecast by the International Platform of Insects for Food and Feed (IPIFF) (2): "the insect consumers will reach 390 million by 2030 in EU". To my calculations it would be 83% of the Europe's population.
Insects are sustainable, nutritious and EU novel food approved – this is the right time!
Your start-up: who are you?
Carlos'Bugs is the first insect food manufacturer in Latvia and offers unique, never seen luxury chocolate pralines with insect powder in the EU. The startup named Carlos'Bugs was founded in February 2022, and we are 3 people on the team – the CEO, an R&D engineer, and the head of manufacturing. Our webpage, email, and the #carlossbugs on Instagram and Facebook.
Carlos'Bugs insect chocolate pralines are available in the supermarket Stockmann Riga, small concept stores in Latvia, and in The Baltic Shop in Austria.
What do you offer?
Delicious and exciting Carlos'Bugs chocolate pralines with insect powder for added value. Pralines are made of high-quality ingredients - Belgian chocolate, dried berries, nuts, pea protein, insect /Alphitobius Diaperinus worm/ powder mix, and finished with white or dark Belgian chocolate glaze. Available in branded Carlos'Bugs packaging for retail or tailored for private label. Source of protein (14,4g/100g) and reduced sugar (19g/100g).
Why you?
The Carlos'Bugs mission is to create genuine insect products with added value. Our focus is on taste, nutrition, and concept and we offer true, exciting, delicious, and nutritious products for everyday life. Everything is possible – just look for – how?!
Challenges
Currently, insect food products are the niche market and are mostly available in the protein industry (e.g. sports). The insects are still not commonly used as ingredients in manufacturing- at the moment only insects in whole or powdered form are allowed but no extracts, oil, fiber, and protein concentrate. Food manufacturers lack the information about nutritional, sustainable, and economic benefits insects provide.
Perspectives
We love to share our insect industry knowledge and currently, we are working with manufacturers in Latvia to develop a science-based recipe for three new insect products.
The more insect products are offered in the market, the greater opportunity for consumers to taste and welcome insects into our diets as the "new normal".