Delivering innovative solutions
for the nutraceutical market
IBSA was established in Lugano in 1945 and started developing its special identity in 1985 when it was acquired by the current ownership, which adopted a new strategy focused on the acquisition of technological resources and launched a development programme aimed at consolidating its global expansion and developing company assets.
Today IBSA is present in over 90 countries in 5 different continents, with 17 subsidiaries, in Europe, China and the United States and employs more than 2,000 collaborators in its headquarters, subsidiaries and manufacturing sites with a consolidated turnover of CHF 800 million.
IBSA boasts an extensive product portfolio that includes different therapeutic categories, such as prescription drugs, OTC medicines, medical devices and food supplements, and covers 10 therapeutic areas. The company holds 90 patent families and several others in the pipeline.
IBSA's production lines are characterised by state-of-the-art technology and R&D activities employ latest-generation technologies to optimise the bioavailability, efficacy and safety of existing active substances and supplements in order to develop simpler, more evolved treatment systems.
In fact, over the years IBSA's Researchers have developed innovative technologies, novel formulations and delivery systems such as softgel capsules, orodispersible films, pre-filled syringes, patches (hydrogel and drug-in-adhesive technologies), gonadotripins purification process, progesterone & ßciclodestrine, single dose strip, Nahyco hybrid technology, device for intravesical instillation.
Thanks to its consolidated experience, its industrial capacity and its proprietary technologies, IBSA is the ideal partner to serve other companies in the pharmaceutical and nutraceutical industry, providing strategic licensing agreements, in countries where it does not operate directly with its subsidiaries, and comprehensive services from drug development through drug manufacturing for EU and non-EU markets.
Soft capsules (Softgels)
In particular for the nutraceutical market IBSA offers the innovative and exclusive PEARLtec technology, a process for obtaining softgel (soft capsules) that makes it possible for a liquid matrix, in a suspension or a gel, to be incorporated into a tasteless and odourless gelatine capsule. Advantages include:
High dosing precision and better oral bioavailability than other oral solid forms;
Excellent dissolution profile, regardless of the pH;
Ease of oral administration;
Neutral or flavourless taste.
Easy and practical to swallow, it improves both the oral intake of the medicinal or supplemental product and patient compliance. PEARLtec technology permits the formulation and realisation both of medicines and nutraceuticals in a vast range of forms and colours.
Today, IBSA produces 300 million soft gel capsules annually in its factories and thanks to this technology is able to provide doctors and patients with innovative products that are highly effective in improving health and quality of life.
Ialuril Soft Gels
Indicated for patients suffering from recurrent urinary tract infections (rUTIs), interstitial cystitis (IC/BPS), and radio - or chemotherapy - induced cystitis who experience urothelial damage that causes severe pain and inflammation.
Thanks to its ingredients, Chondroitin sulphate, Quercetin, Curcumin, and particularly HA (hyaluronic acid), Ialuril soft gels helps prevent damage to the urothelium and consequently promote its healing. Soft Gel is a new addition to a brand already recognised as the first choice GAG replacement therapy, offering physicians and patients a safe and easy-to-use treatment option in a range of painful conditions with known/suspected urothelial involvement.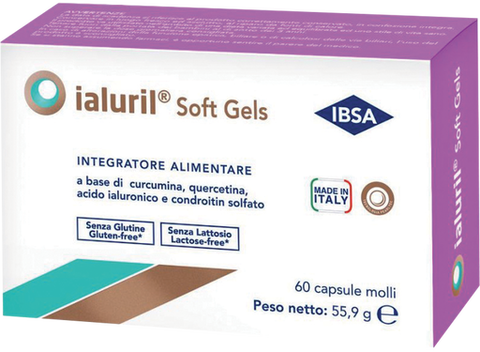 Colesia Soft Gels
Cholesterol is a fundamental component of our body but high blood cholesterol levels are one of the risk factors for the occurrence of cardiovascular diseases, such as heart attack and stroke. This is the reason why it is advisable to keep cholesterol values under control at all times. Colesia® contains Fenugreek, which contributes to triglyceride and cholesterol metabolism, and flaxseed oil, which contributes to lipid metabolism.
Dietary supplement based on phytosterols, red rice and olive polyphenols, with Fenugreek and Flax Oil, added plant sterols and stanols gluten-free, Colesia softgels help maintaining cholesterols values under control at all times.
Ultralife Duo
Ultralife® Duo has been specifically formulated for the pregnant woman and for the breastfeeding. It has a synergistic action for the health of mother (gold capsules) and the unborn and newborn baby (violet capsule).
EPA + DHA contribute to the maintenance of normal cardiac function in the mother and normal eye development in the fetus and breastfed infants. Folic acid contributes to the normal growth of maternal tissues in pregnancy and prevents the risk of neural tube development defects in the fetus. Minerals, such as Iodine, Selenium, Copper, Zinc and Iron are essential for the mother and the unborn child. Vitamin A contributes to the normal metabolism of iron and intervenes in the process of cell specialisation. Vitamin D promotes the absorption/utilization of calcium and phosphorus, normal blood calcium levels and the maintenance of normal bones. B vitamins (B2, B3, B5, B6, B12) contribute to normal energy metabolism, the functioning of the nervous system, and the reduction of fatigue and tiredness.