Proteins
InnoProtein:
The transition towards greener, tastier and newer proteins
Maria Carmen Villarán1 Silvia Quintela*1
Inês Farinha2 Bruno Ferreira2
*Corresponding author
1. TECNALIA, Miñano – Araba, Spain
2. Biotrend - Inovação e Engenharia em Biotecnologia, Cantanhede, Portugal



The InnoProtein project aims to address the economic, environmental, and social challenges associated with current protein sources in Europe by developing and introducing sustainable alternatives for food, feed, and non-food applications. The primary focus is on creating new protein sources that possess exceptional nutritional quality, health benefits, and functional properties to meet the diverse needs of consumers, animals, and industries. These proteins will not only cater to the food and feed markets but also find applications in non-food biobased industries. To achieve this goal, the InnoProtein project will employ a circular and zero-waste strategy, ensuring the valorisation of residual biomass and streams from Single Cell Protein (SCP) and insect protein production processes for the production of bioplastics and bio-stimulants.
Introduction
By 2050, population growth will significantly threaten the current environmental, social and economic system (1). Higher quantities of food, especially those rich in protein, will need to be produced to feed the growing population, but traditional sources of protein, in its vast majority animal derivates, are becoming sustainably obsolete due to the high consumption of natural resources employed for their production (2).
Compounding the urgency of the situation is the so-called "protein gap", as Europe suffers from a lack of sustainable proteins produced within its market. The region currently imports 70% of its protein-rich crops and is almost dependable (at 90%) on soy (3). This heavy dependence on soybeans has significant environmental consequences, particularly in the European livestock sector, where the environmental impact of imported soybeans is estimated to be between 4.6 and 7.8 kg CO2 eq/kg protein (4). Additionally, millions of tonnes of agro-food wastes in the EU remain unused, representing a significant added environmental impact.
To address these challenges, Innoprotein is an EU project that aims to expedite Europe's journey towards achieving protein self-sufficiency while ensuring food security in the market. The project will explore the utilisation of sustainable protein sources currently underexploited through a circular, non-waste approach focusing on environmental, technological, economic, and social viability. Additionally, in line with the no-food waste vision of other EU initiatives such as "From Farm to Fork" and the "European Green New Deal", INNOPROTEIN will aim to give a useful end to the protein matrix byproducts currently discarded.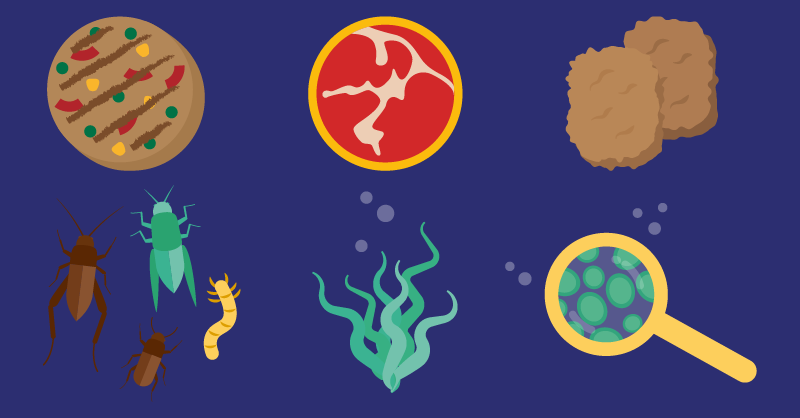 InnoProtein: sustainable proteins with a circular approach
Due to economic, environmental, and social issues caused by current protein sources, Europe needs alternative proteins for food, feed and non-food applications. The project will study novel protein sources for human and animal consumption, such as Single Cell Proteins (SCPs) and insects, which have vast potential as high-protein alternatives.
SCPs are a type of protein source that can be produced from microorganisms such as bacteria, yeast, fungi, and microalgae. They are called "single cell" proteins because they are derived from these single-celled microorganisms. The utilisation of SCPs and insects can be the solution to address the aforementioned challenges for many reasons: they can be cultivated in labs or factories in any geographical setting, their production processes exhibit exceptionally low environmental footprints, and they have the potential for multiple applications, not only limited to food and feed but also to the production of bioplastics or energy. However, their production presents challenges that are yet to be resolved.
Additionally, InnoProtein will also tackle the conversion of agrifood waste and residual biomass from the protein extraction processes into raw materials for biodegradable cutlery, biofuels and even plant stimulants, closing the cycle. Current studies or applications of SCPs primarily focus on extracting a single compound, resulting in a significant amount of biomass being underutilised. This biomass can contain a protein content ranging from 39 to 61% (5). These agro-food residue wastes could be upcycled in a circular and zero-waste perspective by valorising them in a continuous production process, avoiding unwanted greenhouse gas (GHG) emissions, and producing proteins for the bioeconomy.
Moreover, the project will also contribute to developing new protein-biobased products from one source or formulations combining different sources with high nutritional quality, healthy and functionality properties that meet industry and end-users' needs and expectations in food, feed and non-food biobased markets. The project also includes a preliminary co-location opportunity and delocalised production in smaller units for further replication in the EU.
Challenges for SCPs and insect's production
To obtain multiple products, promote industrial symbiosis, and facilitate zero-waste approaches, integrated approaches are necessary for SCP and insect biorefineries (6). To achieve its aims, InnoProtein will tackle several barriers to make SCP and insects feasible sources of proteins, including:
A limited number of SCP and insect species tested and approved for human consumption, biomass underutilisation and no economical production systems (5, 7).
The gap between the industry's need for more efficient and greener protein extraction methods and currently available technologies (8)
Quality and health limitations: anti-nutritional factors, low digestibility, organoleptic issues, culture (low acceptance by the European population) and allergy issues (skin and gastrointestinal reactions) (4,9).
Lack of availability of non-invasive continuous monitoring of microorganism culture technology.
The available systems and applications dedicated to design/modelling, process monitoring/optimisation, and data analytics/data management not fulfilling the requirement for the production of alternative proteins.
In the next 4 years, InnoProtein consortium will address these challenges by screening for species of SCP (microalgae, bacteria and fungi) and insect to produce rich-protein biomass applying novel technologies at ideal lab conditions. The project will apply greener innovative technologies, such as Three Phase Partitioning (TPP), ultrasound-assisted (UAE), accelerate solvent extraction (ASE) and natural deep eutectic solvent (NADES) to maximise protein and peptides recovery yield from SCP and insect biomass.
In detail, the project's objectives are:
To produce maximum protein yield from SCP and insect, first at lab scale and then optimising the processes from a sustainable point of view and scaling-up.
To develop UltraSound (US) monitoring technology and digital tools to improve the protein production processes.
To validate INNOPROTEIN proteins for food, feed and non-food bio-based applications (free-plastic cutlery and biostimulants).
To demonstrate environmental, economic and social sustainability of INNOPROTEIN processes.
To maximise the impact of INNOPROTEIN developments.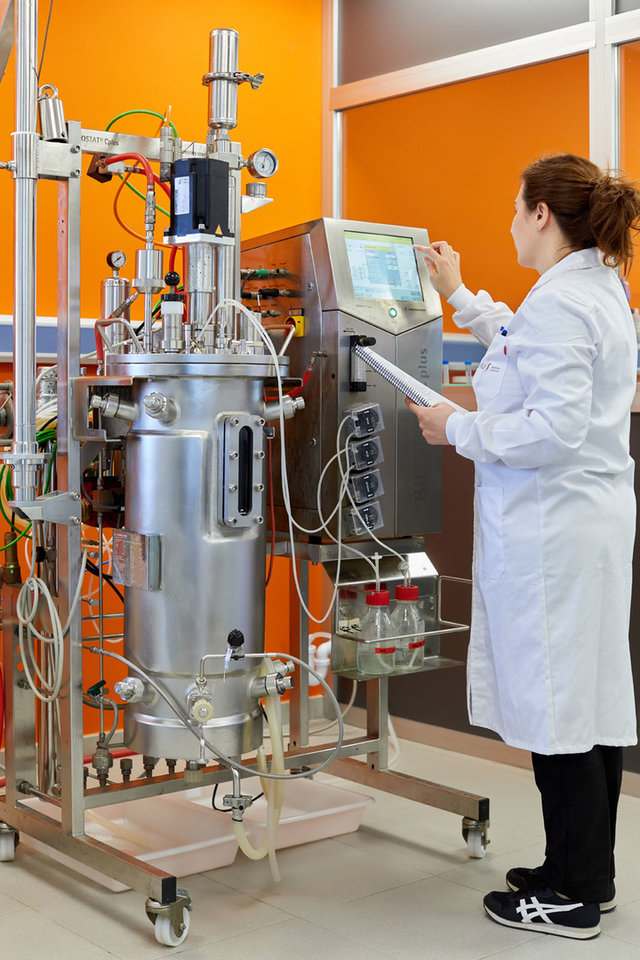 Fermenter for obtaining SCP (Single cell proteins). Picture by Tecnalia.
Example: the potential of ultrasonic technologies for microalgae cultivation
In the field of microalgae cultivation, for example, Innoprotein will investigate the potential of three underexploited species, namely Haematococcus pluvialis, Euglena gracilis and Aphanizomenon flos-aquae, for protein production. To optimise the exploitation of the high protein levels in these species, two types of cultivation, autotrophic and heterotrophic, will be evaluated. However, improvements are necessary to enhance the production process's cost-effectiveness, performance, and flexibility.
While several strategies aimed at monitoring specific parameters of microalgae culture are already available, most of them rely on optical technologies (9), which require direct line of sight (not feasible through metal walls) or invasive measurement of rheological parameters by direct contact with the liquid (10). Continuous monitoring, as opposed to this more common approach of collecting discrete samples, can significantly enhance microalgae cultivation aimed at producing rich-protein biomass.
As part of the project, a novel monitoring strategy for heterotrophic cultivation will be proposed, leveraging non-destructive and non-invasive ultrasonic technologies. Ultrasound technology emerges as a more suitable option to monitor microalgae culture due to its sensitivity to the medium' composition it passes through (culture, liquid) and its capability to penetrate a wide range of materials and substances, enabling non-invasive monitoring even through metal containers. This approach holds promise for future industrial implementation, as it is both harmless and cheaper.
Why funding new proteins is important for industry and the economy?
By reducing the consumption of meat, dairy products, and eggs, it is estimated that a 25–40% reduction in GHG emissions can be reached in the EU (11). In addition to food, proteins are needed for animal feed and other non-food applications. The protein ingredients market reached €38,885 million in 2020 and is expected to experience a compound annual growth rate (CAGR) of 10.5% from 2021 to 2028. According to estimates, a worldwide demand for protein of 11,860.3 kilotons is expected by 2028. (10)
This challenge represents an opportunity for the European industry and economy. There is an urgent need to produce a higher quantity of proteins and look for more sustainable alternative sources to animal and plant-based proteins. This is especially relevant in the EU due to its "protein gap" and high dependency on non-renewable resources. (12)
To face these challenges, InnoProtein counts with a strong multi-actor approach involving 14 partners from 9 European countries, including providers of technology, industrial partners and a consumer-oriented organisation. As a market-oriented project, INNOPROTEIN will contribute to reducing the European dependence on protein and enhance their competitiveness by producing the next generation of alternative sustainable protein ingredients (SCP and insect proteins).
The project will last 48 months, and has been co-funded by the European Union. The project is supported by the Circular Bio-based Europe Joint Undertaking and its members.
Leridon H. World population outlook: Explosion or implosion?. Population & Societies. 2020;573:1-4
La Barbera F, Amato M, Verneau F. Beyond Meat: Alternative Sources of Proteins to Feed the World. Nutrientes. 2023 ;15: 2899.
Albaladejo Román A. EU protein strategy. European Parliamentary Research Service. 2023; PE 751.426: 1-8
Raziq A, Lateef M, Ullah A, Ullah H, Waseem Khan M. Single cell protein (SCP) production and potential substrates: A comprehensive review. Pure and Applied Biology. 2020; 9(3):1743-1754.
Krishna A, Kit C, Krishnamoorthy R, Yang T, Dinh-Toi C, Pau-Loke S. Microalgae: A potential alternative to health supplementation for humans. Food Science and Human Wellness 2019; 8(1):16-24.
Amorim Lopes M, Soares J, Coimbra dos Reis JS, Leite de Oliveira M, Albino Teixeira LF, Martins Arêdes M. Microalgae proteins: production, separation, isolation, quantification, and application in food and feed. Critical Reviews in Food Science & Nutrition 2021; 61(12):1976-2002.
Wang H, Ur Rehman K, Liu X, Yang Q, Zheng L, Li W, et al. Insect biorefinery: a green approach for conversion of crop residues into biodiesel and protein. Biotechnology for Biofuels. 2017; 10:304.
Caporgno MP, Mathys A. Trends in Microalgae Incorporation into Innovative Food Products with Potential Health Benefits. Frontiers in Nutrition. 2018; 5:58.
Meyer-Rochow VB, Gahukar RT, Ghosh S, Jung C. Chemical Composition, Nutrient Quality and Acceptability of Edible Insects Are Affected by Species, Developmental Stage, Gender, Diet, and Processing Method. Foods. 2021: 10:1036.
Grand View Research. Protein Ingredients Market Size, Share & Trends Analysis Report By Product (Plant Proteins, Animal/Dairy Proteins, Microbe-based Proteins, Insect Proteins), By Application (Food & Beverage), By Region, And Segment Forecasts, 2021 – 2028. Grand View Research 2021; Report ID: 978-1-68038-451-2.
Westhoek H, Lesschen JP, Rood T, Wagner S, De Marco A, Murphy-Bokern D, Leip A, et al. Food choices, health and environment:effects of cutting Europe's meat and dairy intake. Global Environmental Change 2014; 26:196–205.
Lindberg JE, Lindberg G, Teräs J, Poulsen G, Solberg SØ, Tybirk K, et al. Nordic Alternative Protein Potentials Mapping of regional bioeconomy opportunities. Editors Kell Andersen and Knud Tybirk, 2016.