MORO ORANGE VARIETY, THE NATURAL APPROACH TO WEIGHT CONTROL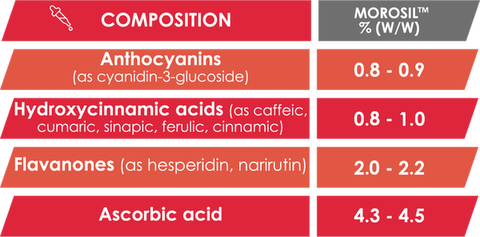 MOROSIL™ is a standardized powder extract obtained only from the juice of a unique cultivar of Moro red oranges (Citrus sinensis (L.) Osbeck).
Thanks to the synergistic mechanism related to the pool of biophenols contained in enriched blood orange extract, MOROSIL™ may be used for weight control and, acting on fat accumulation, it can indirectly been used to reduce the risk of onset and chronicity of cardiovascular related problems.
ACTS ON ADIPOCYTES METABOLISM AND DIFFERENTIATION modulating the adipogenesis though several key pathways in which redox homeostasis alteration is also involved together with the downregulation of adipocyte specific and lipogenic gene transcription.
HELPS THE WEIGHT MANAGEMENT reducing the body weight and the body mass index acting on waist and hip circumference in men and women.
BOOSTS THE RESULTS OF CALORIE RESTRICTION DIET AND EXERCISE accelerating the reduction of body weight and body mass index acting on waist and hip circumference in men and women of Caucasian and Asian ethnicity. The activity of MOROSIL™ has been evaluated in a randomized, double-blind, placebo-controlled clinical trial carried out:
- on 102 volunteers with a BMI between 25 and 30 kg/m²
- treated with 400 mg/day of MOROSIL™ - for 12 weeks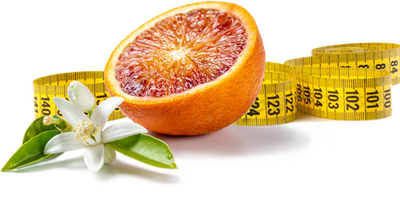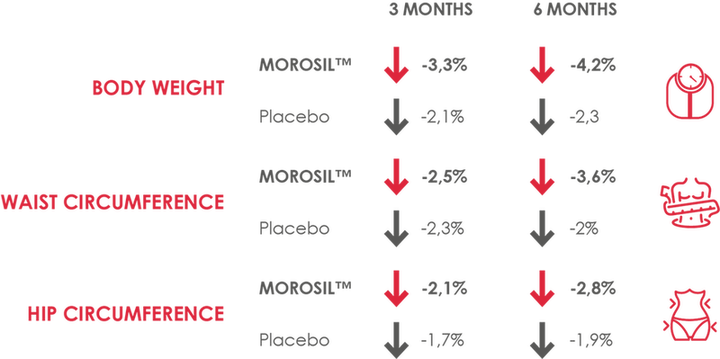 BIONAP respect environment throught a short traceable and ethically managed supply chain, infact we have a farmer's network, composed by certified farmlands no more distant than 2 hours of transport route from the BIONAP's processing facility.