SAFE, CIRCULAR AND
RESPONSIBLY MADE:
THE CRADLE TO CRADLE FRAMEWORK GUIDES
THE DEVELOPMENT AND VERIFICATION OF
SUSTAINABLE COSMETICS PRODUCTS & PACKAGING

Beautiful and effective cosmetics must also meet today's consumer, brand and retailer requirements for safety, sustainability, circularity and social responsibility, for both product and packaging. In a recent survey of European women between 16-64 by Global Web Index, 56% said they would pay more if the products were made with natural or organic ingredients and 43% said they would pay more if packaging was sustainable. It is no surprise that the global clean beauty market's revenue is expected to grow at a CAGR of 12% from 2020 to 2027, according to Brandessence Market Research And Consulting.
The rise of the sustainable cosmetic consumer has led to the creation of numerous, single-issue certifications and small cosmetic packages packed with a multitude of certification symbols. It has also created a chaotic and confusing environment for many brands, retailers, ingredient and packaging suppliers seeking to align their products and businesses to these limitless requirements, to validate claims and communicate achievements to their customers.
Against this backdrop, the Cradle to Cradle Certified® Products Program, developed and administered by the Cradle to Cradle Products Innovation Institute, offers the opportunity for the entire cosmetic value chain to align on a single and comprehensive, sustainability framework and set of requirements – for ingredients, products and packaging – that are safe, circular and responsibly made. Companies of different sizes like L'Oreal USA, Coty and Beauty Kitchen are using the program as a comprehensive and ambitious roadmap for developing or reformulating products, designing circular packaging solutions, and creating manufacturing systems and business models that have a positive impact on humans and the environment.
Cradle to Cradle Certified is gaining significant uptake among companies seeking a global, science-based and third party verified certification program, and consumers are taking notice.
INTRODUCTION
The Program addresses five critical areas of sustainable performance for cosmetics: Material Health, Product Circularity, Clean Air & Climate Protection, Water & Soil Stewardship and Social Fairness (see box).
To earn certification, companies work with an independent third-party assessor to determine a product's performance across the five categories at Bronze, Silver, Gold, or Platinum level. The lowest level of category achievement determines the product's overall certification level. Recertification every two years creates a continuous improvement roadmap for future environmental and social performance.
The requirements at each level have been developed through years of research and engagement with leading safer chemistry, sustainability experts and stakeholders, led by the Institute's team of scientists.
THE FIVE SUSTAINABILITY CATEGORIES OF CRADLE TO CRADLE CERTIFIED
FIVE CATEGORIES OF SUSTAINABILITY
IN CRADLE TO CRADLE CERTIFIED
FOR SUSTAINABLE COSMETIC
PRODUCTS AND PACKAGING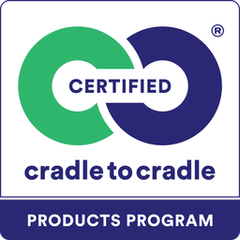 Material Health: Chemicals used in products and packaging are selected to prioritize the protection of human health and the environment. For packaging, materials are safe for future cycling and use.
Product Circularity: Products and packaging are intentionally designed for their next use and are actively cycled in their intended cycling pathways.
Clean Air & Climate Protection: Product manufacturing results in a positive impact on air quality, the renewable energy supply, and the balance of climate changing greenhouse gases.
Water & Soil Stewardship: Watersheds and soil ecosystems are protected, and clean water and healthy soils are available to people and all other organisms.
Social Fairness: Companies are committed to upholding human rights and applying fair and equitable business practices.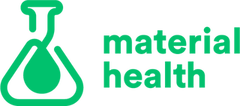 On 16th of March of this year, the Institute launched Version 4.0 of its product standard, which came into effect on 1st of July 2021. Version 4.0 of the standard was developed through a transparent multi-stakeholder process, involving many international technical subject matter experts and two public comment periods. The new standard version reflects significant advancements in understanding of what it takes to make products with a positive impact, with an ambitious set of actionable requirements for guiding companies to make safer materials choices, creating circular products, packaging and processes in an equitable way. Cradle to Cradle Certified Version 4.0 is designed to support companies in defining, implementing and demonstrating true sustainability leadership.
VERSION 4.0: A NEW AMBITIOUS AND ACTIONABLE STANDARD
To assess chemicals for material health, the standard provides detailed guidance on taking an inventory of the ingredients in the product; screening the ingredients against a restricted substances list (RSL) of known hazardous chemicals; and assessing the ingredients that are in the product using the Institute's Material Health Assessment Methodology, the leading global assessment methodology on human and environmental hazard and exposure. Many certifications simply screen against an RSL, which while a good first step, is not sufficient to ensure safety. The full chemicals assessment enables informed ingredient optimization and the development of alternatives that are safe for human and environmental health.
MATERIAL HEALTH LEADS THE WAY
Packaging sustainability is addressed in the Version 4.0 standard by considering the safety of chemical ingredients in the packaging, sourcing of post-consumer recycled or responsibly sourced renewable content materials, and design of the packaging to be compatible with circular management systems, with flexibility to choose recycling, composting, refill or lightweighting strategies.
There are three pathways to assess and optimize packaging sustainability for cosmetic products. If a brand seeks to certify the product (formulation) only, there are requirements in material health and circularity for the packaging as described above. The product and the packaging can be certified together, with the packaging assessed only in the Material Health and Product Circularity categories. Finally, the packaging can be assessed on its own in all five categories, in similar fashion to a product. The Institute just debuted new product marks for packaging certification. Some companies start with assessing and optimizing the product and then move into the packaging, while others start by doing both.
PACKAGING CIRCULARITY IS EMPHASIZED
For Cosmetic Brands the standard provides a guide for developing safe cosmetic products, circular packaging, sustainable manufacturing, and fair business practices. The underlying framework enables companies to assess and optimize their formulations, products, packaging and business operations and provides a pathway to future-proof innovation.
Cosmetic Retailers are leaning on Cradle to Cradle Certified as a way to differentiate more sustainable products. Amazon evaluated hundreds of certifications and included Cradle to Cradle Certified in its Climate Pledge Friendly Program, to make it easy for customers to discover and choose more sustainable products. Walgreens/Boots Alliance and Walmart encourage their suppliers to work with Cradle to Cradle Certified.
Cosmetic Ingredient Suppliers can leverage Cradle to Cradle Certified to demonstrate the safety of their ingredients to their customers by obtaining Material Health Certificates. For example fragrance supplier IFF is deeply engaged in assessing and optimizing their fragrance catalogue, which in turn helps their customers achieve Cradle to Cradle certification of their products.
For Cosmetic Packaging Suppliers, Cradle to Cradle Certified offers a framework for designing safe and circular packaging to meet the needs of their brand customers. As brands pursue certification of their products against the Version 4.0 standard, they are seeking packaging that can meet the requirements of the standard. Packaging suppliers that proactively certify their packaging materials or designs are seen by their customers as trusted partners for sustainable and innovative solutions.
A SUSTAINABILITY FRAMEWORK FOR THE ENTIRE COSMETICS VALUE CHAIN
Cosmetic companies are leveraging the Cradle to Cradle framework to guide product and packaging design, to optimize their factories for sustainable manufacturing, and communicate their achievements to their customers. For example L'Oreal USA aligned their sustainability program to Cradle to Cradle Certified, optimized their manufacturing facility accordingly and is now certifying products produced in the facility, from brands including Garnier, Redken, Pureology, Carol's Daughter and more in the pipeline. L'Oreal's has also set industry-leading commitments on circular packaging. Redken packaging is currently at least 93% post consumer content and designed for recycling.
Beauty Kitchen, a UK sustainable beauty pioneer, is featuring full lines of beauty products optimized for Cradle to Cradle Material Health and Circularity, including plant-based, rapidly renewable and biodegradable ingredients that are safe for people and planet. Their Return – Refill – Repeat Program, uses glass and aluminum packaging designed for reuse and combats single use plastic head on. Their refill stations were designed and deployed in partnership with Unilever and their consumer education has ensured success for the program.
HOW COSMETICS BRANDS ARE LEADING THE WAY WITH CRADLE TO CRADLE CERTIFIED
The Cradle to Cradle Certified logo is a distinct product mark that can be displayed on the product packaging to demonstrate achievement and drive credibility with consumers in an easily recognizable manner. Marks are available for certified products and packaging.
Consumer interest in sustainable products and businesses is rapidly increasing as are purchasing decisions driven by verified product sustaina­bility claims. Cradle to Cradle Certified is fit for businesses of all sizes with different market reach, consumer focus and followings. With notable large brands such as L'Oreal and Coty in the program and others in the pipeline, Cradle to Cradle Certified is gaining recognition and momentum in the beauty sector. Small "indie" brands are joining the journey as well, often designing their portfolio with Cradle to Cradle principles in mind right from the beginning.
The Institute provides public access to its standard, methods and policies and to learn more access the Institute's website.
COMMUNICATING ACHIEVEMENTS TO CONSUMERS