TrinamiX' sensing technology will empower end consumers to identify the molecular composition of material enabling them to optimize their decision making. Initial applications of mobile spectroscopy will focus on daily skincare. Future smartphones incorporating the technology will enable consumers to scan their skin on a molecular level and receive near-instantaneous suggestions on optimal skincare products for use on that day. Silvana Maini interviewed Dr. Wilfried Hermes for the readers of BEAUTY HORIZONS.
A portable spectrometer in one hand is something more like a science fiction vision. But today is a fact. Your story really impressed me. For the benefit of our readers, can you briefly tell me the origin of the birth of "trinamiX". And why "trinamiX"?
trinamiX is a spin-off and wholly owned subsidiary of BASF. Our origin is BASF's central research, where our Managing Director, Dr. Ingmar Bruder, was employed in the field of organic solar cells.
He made the discovery that forms the technological basis for today's business. In 2015, trinamiX was founded as a separate company being part of BASF Group. Since then, trinamiX has grown to more than 150 employees and we've had a very close relationship with our mother company ever since, mutually benefitting from our unique and unprecedented expertise and skill sets.
The name trinamiX is a play on words with the Latin word three ("tri") and the sound of the English word "dynamics".
What about your latest development on skin care application? How was this intuition born? From trinamiX or following a specific indication from BASF?
Our Mobile NIR Spectroscopy Solutions are all about improving on-the-spot decision-making. Our technology has already helped B2B customers from a variety of industries to make the invisible visible. In the food industry, we provide insights into caffeine and moisture level of coffee beans - enhancing the quality of coffee. Another exciting field is plastic sorting. With our solutions, the diverse compositions of different plastics can now be precisely determined and distinguished on the spot – improving recycling and recyclability on our path towards a circular economy.
As part of our latest application – skincare – we're catering to the needs of a growing amount of people who want to lead a healthier lifestyle. With our solution, they can now receive fast and actionable information about individual skin conditions in near real-time. While today's solution provides cosmetics producers or beauty retailers with a better understanding of their customers' skin, we're aiming to make this application available to a broader audience in the long run – by integrating our technology into smartphones.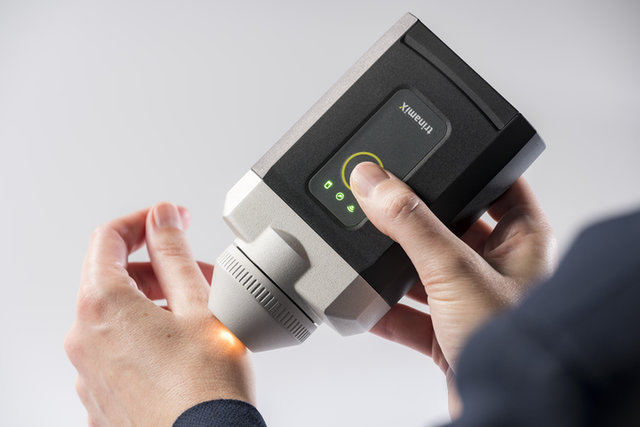 Can you describe how this technology works on the skin?
Near-infrared (NIR) spectroscopy is a well-established optical analytical method that trinamiX has made affordable and accessible beyond factory and laboratory applications with its handheld solutions.
In NIR spectroscopy, unique features of the material are observed by shining a specific wavelength of infrared light on them: In case of our skincare application, a specific pattern of this invisible light is reflected back by the skin, and this pattern is unique for different skin conditions – like a fingerprint.
Infrared light can be detected with infrared detectors that then convert the reflected radiation into an electrical signal. For those complex signals to be interpreted into actionable results for the user, specific algorithms must be applied – so-called chemometrics. In our case, these are processed in the trinamiX cloud. Based on our algorithms, users receive actionable results on their app.  
BASF CARE CHEMICALS is a world leader in research and development and therefore in the supply of skin care products. Is an interaction between trinamiX technology and BASF skin care products conceivable?
For most our applications, we're working very closely together with our colleagues at BASF. This puts us in a unique position as we can combine best-in-class chemical, engineering, and process expertise.
Today, apps have been developed which, depending on the weather conditions, e.g. the solar radiation of the day, give real-time suggestions for sun protection. Is this integration with your devices also conceivable?
Definitely. Our NIR Spectroscopy Solutions today already provide our B2B customers with actionable results via our dedicated trinamiX app after each measurement with our handheld spectrometer. In a similar way, once our technology is integrated into future smartphones, an app can be rolled out for recommendations tailored to the specific user.  As smartphones are getting increasingly powerful, we can imagine that different conditions such as solar radiation, humidity, air pollution, daytime etc. will be all combined for even more valuable results for the user.
Today, mainly due to changing climatic conditions, air pollution, and even a diet that is not always balanced, the skin is under siege and skin-related diseases are on the rise. Can we say that your instrument can be a help from the point of view of health? Could be consider a kind of medical device?
While our solutions currently provide insights about moisture and lipid levels, there are many other exciting skin and hair health parameters we're already working on for the future. In this context, we are collaborating with third-party institutions from the beauty and skincare sector for relevant industry expertise to unleash the full potential of our technology.
As for the COVID era, unfortunately this is reality, we know of studies aimed at diagnosing the virus, better than various viruses, through the use of spectroscopy. Is this an area that trinamiX is also working on?
At trinamiX, we are always looking to broaden the scope of our applications. Besides our handheld NIR spectroscopy solutions, we developed IR detectors which can be used, among others, for gas detection. So when it comes to COVID-19, the indoor CO2 concentration can be measured with those IR detectors. This concentration is directly correlated to the aerosol concentration and thus provides an indication on whether a potential virus concentration is too high or not. Such detectors are also used in capnographs to monitor the breath activities of intensive care patients.
Again for the benefit of our readers who are obviously in the field of chemistry, can you briefly illustrate other areas in which you apply your research, your products?
When we think about the field of chemistry, quality control is one major challenge. The quality of chemical products heavily depends on the quality of the incoming and outgoing goods. With our solutions you can, for example, determine on the spot if the granulate you use for your production is too moist – without sending any samples to the lab. And it doesn't stop there. We're working on expanding our list of relevant chemicals and parameters that can be detected with our solutions.
When could I reasonably ask for your device as a birthday present? I am obviously referring to mass marketing.
Our current solutions are readily available in the B2B space, but we're working on completing a reference design next year for future use of our technology in smartphones – and we already lined up some exciting partners: Qualcomm Technologies, a global leader in wireless technologies, and VIAVI Solutions, a leader in optical filters – just to name a few. If you get a smartphone for your birthday in the not so far away future, chances are high that our technology will be included.