Setting the "screen"...
Covid-19 has seen the cancellation of morning coffees, a drop in 'hello's' on your way into work and reduced the need to dress properly from head to toe. Instead of preparing for a day at the office, most of us start our mornings at our computer screens for a ZOOM call. Video conferencing is critical to business survival this year, with Microsoft Teams reporting over 75 million active users worldwide for instance (1). Sales in make-up have declined as many people are not leaving the house for work, while sales in skincare have seen a rise alongside the use of face masks (2). But should consumers simply disregard the use of make-up while working from home or could there be more to consider than what initially meets the eye? Is there a need to wear eye shadow during a virtual meeting with colleagues or will your favourite foundation make you 'stand out' more on camera?
Monitor the gaze...
With virtual meetings becoming the norm, we aimed at exploring the impact of wearing make-up during video calls using an eye-tracker. Eye-tracking is a well-established technology to study consumer's behaviour by monitoring their gaze, particularly with regards to ads or product packaging. However, it has also been proven relevant as part of academic behavioural studies, such as the relationship between attractivity and gaze. For the beauty industry, eye-tracking methodologies can support in various manners but from a pure R&D perspective, it can assist the formulation chemist at several stages. Firstly, during prototype selection, to ascertain which shades of a lipstick are more likely to catch the attention of viewers or which blurring ingredient will make a wrinkle the least visible and thus less gazed upon (3). Secondly, it enables to revamp claims of existing products with a more emotional spin, such as "visual attention/attractivity is increased by by X % after a single application of this lipstick."
…online!
As part of this virtual meeting pilot experiment, three viewers took part to video calls when viewing simultaneously two models (Figure 1). Each viewer, unaware of the objective of the experiment, interacted with the two models during two videos calls, while their eye movements were recorded. One model was wearing a full make-up look consisting of mascara, lipsticks and foundation while the other model had a bare skin condition.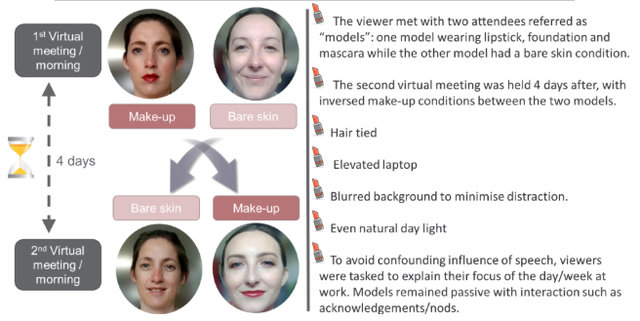 Figure 1. Overview of the experiment set up.
As outlined in Figure 2, the application of foundation, mascara and lipstick led to a boost in viewed time, frequency of fixation and revisits in comparison to a bare skin condition. These results suggest that the increase in attractiveness imparted by colour cosmetics can – to some extent - be conveyed by a webcam and thus lead to heightened attentiveness from the audience during virtual business meetings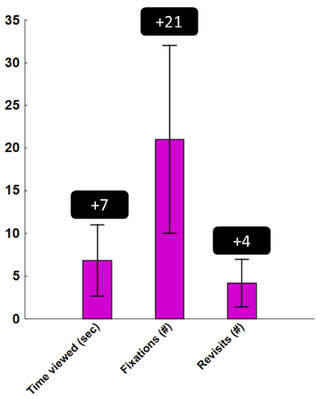 Figure 2. Increased gain in seconds, fixations frequency and revisits when wearing make-up. Gain normalised over a length of 60 secs.
Conclusion
With this information to hand, the benefits are two-fold for the employees. Firstly, they will be more likely to catch the attention of their peers in terms of viewed time, fixations and revisits when interacting online. We can assume that it is due to an increase of attractiveness, as evidenced by previous research showing associations between gaze time and perceived attractiveness (4).
Secondly, they can feel more empowered knowing that the use of colour cosmetics can indeed boost their on-screen influence. Whether performing a presentation or simply sharing thoughts during a virtual 'round-table,' confidence and self-esteem can be boosted with the feeling that make-up gives the wearer some sort of added 'power, as witnessed by the increasing body of evidence around the psychological effect of make-up. An interesting additional question to answer would be: is the increased gaze a result of the stronger colour contrast imparted by make-up, or rather the results of an increased confidence of the make-up wearer? It would relevant to further explore the outcome observed as part of this pilot experiment, because platforms such as Zoom or Microsoft Teams are here to stay for a while in workplaces.
References
Jimenez J. and Alonso M.G. Soft-focus for the Selfie-obsessed: Eye Tracking to Improve Colour Formula Development. Cosmetic and Toiletries, 132(3), 25-36 (2017).
Leder H., Mitrovic A. and Goller J. i-Perception, 7(4), 1-12 (2016).
ABOUT THE AUTHOR
Michelle Mangan is an expert in claims substantiation and scientific communication for colour cosmetic technologies. Michelle researches and translates the science behind colour cosmetic products to create innovative product stories and claims for next generation NPD launches. Michelle is particularly passionate about social media and is inspired by viral trends and sharable content.
ABOUT THE AUTHOR
Cyril Messaraa is a principal scientist specialised in the evaluation of cosmetics products, skin physiology and clinical instrumentation for Oriflame. He has authored over a dozen of articles in peer-reviewed journals and magazines for skin research and the cosmetic industry.