BEAUTY CLAIMS
FOR SUPPLEMENTS. PERCEIVING
THE BENEFITS
The global dietary supplements market is set to see staggering growth in the coming years. Within this overarching product category are the beauty supplements, that claim cosmetic benefits whilst being subject to food regulations. This can lead to misleading advertising and uncompliant products in a category where competition is thriving.
As such, Ayton Global Research have commissioned market research to investigate what the consumers really want out of beauty supplements and how brands can communicate this in their marketing, all whilst staying compliant with advertising regulation.
The global dietary supplements market is set to see staggering growth in the coming years (Ref 1), what is driving consumers towards this growing product category?
To encourage consumers to buy into this emerging market, it is likely to see beauty claims alongside nutritional and health benefits in advertising. As supplements come under the Food category, researchers, product developers and marketing departments can be unsure of how these claims are regulated, leaving them open to scrutiny from consumers, competitors, and regulatory bodies. Regardless of product regulations though, every product that is advertised to consumers is regulated by the appropriate advertising standards authority in the country that the product is being sold in. Let's look at the Advertising Standards Authority (ASA) in the UK as an example of what marketers need to be wary of:
'Claims not caught by the Food rules still need to be supported by scientific evidence. Rule 12.1 states that substantiation will be assessed on the basis of the available scientific knowledge. It states that marketers should provide trials conducted on people only "if relevant". A beauty claim would still need to be supported with suitable evidence proving the efficacy of the product' (Ref 2).
Ayton Global Research (AGR) specialise in substantiating perception claims, and as beauty claims for supplements are often subjective, they have vast experience in testing this product category. Therefore, they have commissioned this research to investigate what the consumers really want out of beauty supplements and how brands can communicate this in their marketing, all whilst staying compliant with advertising regulation.
INTRODUCTION
This market research study was conducted August 2021 in the form of an online survey in the UK. The study protocol was developed and executed in accordance with Good Clinical Practice (GCP), and Market Research Society (MRS) code of conduct for ethical market research practices (Ref 3).
Volunteers
A total of 220 female (92%) and male (8%) volunteers, aged between 18 and 70 years actively participated in the study. 66% of volunteers were aged between 30-50 years. Volunteers were recruited through AGR's search engine optimisation and referrals between volunteers. Volunteers were selected according to the profile criteria that they must take beauty supplements as part of their daily routine. Eligible volunteers were invited to take part in the study and acceptance was purely voluntary.
Questionnaire, Data Management, & Statistics
The study comprised a questionnaire of a total of 16 questions relating to product and brand usage, influences, claims and advertising. The full questionnaire details are reported (Ref 4). All data was reported through the Ayton System Software.
A 95% confidence interval was applied to all report statistics. Single and multiple answered questions were analysed through Chi-Squared Test. Analysis was carried out in accordance with the procedures of the Ayton Global Research Quality Management System, ISO 9001 quality standard, ESOMAR, MRS and/or MRC principles and guidelines or any other applicable standards associated with the in which the study was carried out.
METHODS
The key motivating factors for taking supplements were 'Beauty Benefits' (87%), 'Better Physical Health' (63%), 'Immunity Support' (57%) and 'Mental Wellbeing' (46%), validating the need for perception claims in advertising that follow wellness trends.
Beauty consumers are looking for overall wellness products that have cosmetic, health, and mood benefits combined – supplements fulfil this requirement. Indeed, beauty is not skin deep, and it makes sense to go for an inside-out approach.
For beauty supplements, the panelists were firstly interested in; stronger and healthier looking skin and hair (56%), followed closely by nails (45%).
INSIDE-OUT BEAUTY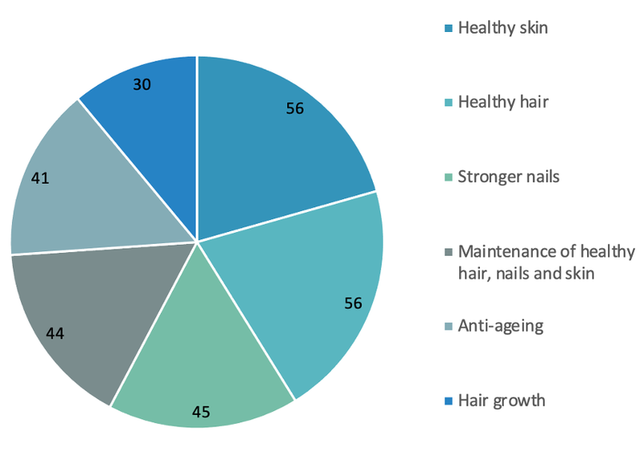 Figure 2. 'Thinking about Beauty Supplements in particular, what motivates you to take them?' % agreement to multi-select answer groups.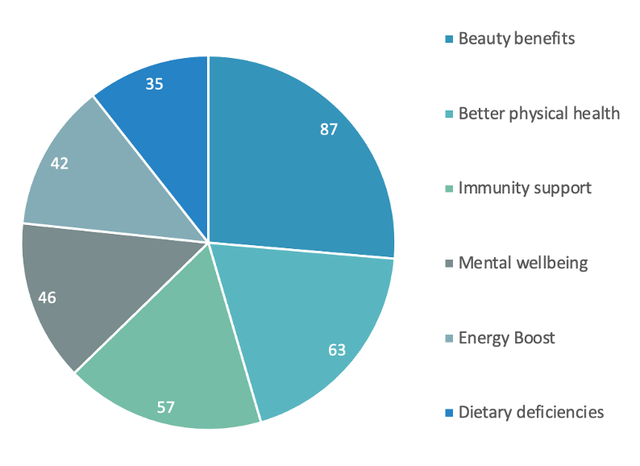 Figure 1. 'What motivates you to take Supplements?' % agreement to multi-select answer groups.
The use of consumer research validation for cosmetic claims is standard practice across the globe; these studies can be equally successful for ingestible supplements. How can we communicate this evidence to consumers to prove the product efficacy and gain trust?
When asked where they would like to see study results when shopping for supplements; website (61%), articles (50%), packaging (41%), and social media (40%) came out on top. All these platforms are explored by the 'research consumer' who educate themselves as a form of online shopping entertainment. This encourages a comparison between brands, where a wealth of information is important, and a brand clearly displaying data behind their claims will have the competitive advantage.
Luxury brands use social media to make supplements aspirational and new generation brands target millennials making supplements a fashion item. Wellco, an Australian supplement brand founded by supermodel Elle Macpherson, is a shining example of how celebrity endorsement and scientifically backed claims can work in perfect harmony. Proudly displaying consumer claims such as '96% woke up refreshed' on their Instagram allows social media followers to understand the actual use effects (Ref 5).
Another example is Lumity Life who compellingly display their results on the website product page, proudly stating "92% of participants noticed improved skin with fewer lines and wrinkles and increased hydration, glossy hair and strong nails" (Ref 6).
The branding and positioning of supplements can be desirable, however, quality and trust are vital themes to ensure brand longevity and a loyal consumer base. 68% of panelists were concerned about how the supplement industry is regulated; this concern points to the reality of compromised quality or unsupported claims. 82% were worried about fillers found in supplements showing there could be quality concerns around ingredients, and delivery systems that determine potency and actual assimilation effectiveness. This situation poses a threat to consumer confidence. The solution could be to clearly display substantiated product claims to illustrate the brands investment into product development.
POWERFUL ENGAGEMENT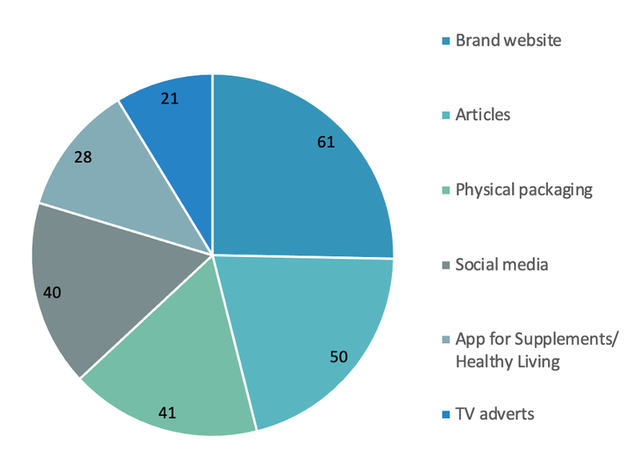 Figure 3. 'On which of these different sources would you like to see study results displayed when shopping for Supplements?' % agreement to multi-select answer groups.
Claims that aren't supported with evidence are likely to be classed as misleading. Although the supplements industry is showing promise for self-regulation, the ASA has asked brands to remove their advertising from the public domain. For example, a popular haircare brand on Instagram was told to remove unauthorised claims by the ASA as they did not hold the research evidence as proof (Ref 7). This is often picked up by mainstream media leading to a bad and untrustworthy reputation for brands.
Nutritional claims are at the core of supplement development, and by carefully selecting tried-and-testing ingredients – formulators can foresee and understand what effects they want their products to have. The question becomes: how do we prove that these claims transfer into the final product and are perceived by the end user? Coming back to this concern from 68% of panelists not trusting how the supplement industry is regulated, 24% also stated 'not sure'. When you see any uncertainty coming out of consumer insight, we can see that consumer confidence is compromised. This could be due to negative press, skepticism, and stories about poor quality. Product trials demonstrate the power of the final product and give consumers the confidence they need to know the product advert is not misleading.
UNSUPPORTED CLAIMS
The tension between trust and doubt exists, which could cause hesitation to commit to supplements and inconsistent sales patterns. In order for the market to thrive, and for consumers to overcome their doubts on nutritional performance claims, more transparency into an organisations research data may be required and should be clearly visible in advertising.
Every beauty supplement needs a good ingredient story behind it, as well as evidence that the final product makes a positive and noticeable difference to the user. There is a definite passion for supplements in how they support consumers to reach health, wellness, and beauty goals. Brands can look to evidence marketing claims as a grounding force and sales converter while this next growth spurt for supplements is underway.
MOVING FORWARD