DIETARY SUPPLEMENTS:
WHAT YOU NEED TO KNOW

The video recording of the ODS webinar "Dietary Supplements: What You Need to Know" is available below and on the National Institutes of Health VideoCast website. The 1-hour webinar is presented by Scientific and Health Communications Consultants Paul Thomas, Ed.D., R.D.N., and Carol Haggans, M.S., R.D., with an introduction by Joseph Betz, Ph.D., Acting ODS Director.
The webinar, originally presented on March 16, 2021, addresses essential facts about dietary supplements, including vitamins, minerals, and botanicals, and concludes with a Q&A session that addresses many commonly asked questions about these products. Key topics include:
Types of dietary supplements and their ingredients
Reasons for use
Efficacy, safety, and quality issues to consider
How to read a Supplement Facts label
Dietary supplements that can help manage specific health conditions
Immune health and dietary supplements
Safe ranges and excessive intakes
Unique considerations for botanical supplements
How the Food and Drug Administration regulates dietary supplements
Tips to find a quality supplement
INTRODUCTION
Mr. WH Leong graduated with a Bachelor of Applied Science (Biotechnology) Degree in Fermentation Technology with first class honours from Universiti Sains Malaysia. He was the recipient of the Chancellor's Gold Medal Award for the graduating cohort. He has over 25 years of experience in the phytonutrient and dietary supplement industries.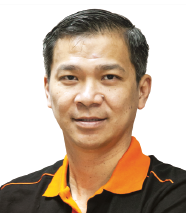 NIH Office of Dietary Supplements
United States