It is no secret that the overconsumption of the earth's resources (along with the amount of waste produced) is having a harmful impact on our planet. In this article, sustainable beauty pioneers Full Circle explore the importance of transitioning towards a circular economy, including what the future of beauty should look like. Plant-based leftovers, specifically, present an interesting opportunity for beauty and personal care brands to reduce their footprint on the planet. By upcycling would-be waste, brands can create innovative products that make excellent use of the precious resources around us without compromising quality or efficacy.
INTRODUCTION
Water, energy, land and natural vegetation are some of the natural resources that are essential to our everyday lives. Unfortunately, these resources are being consumed at a rate that is inherently unsustainable, but not only that - so much of it is wasted too. Take food waste for example; 1.3 billion tonnes of food is wasted every year across the world (1) and an estimated one-third of all the food produced globally ends up as rubbish before it even gets to the table (2). "When food is wasted, all the energy, resources, and money that went into producing, processing, packaging, and transporting it are wasted too," explains Project Drawdown, the leader in quantifying climate change solutions. "The further down the supply chain the food gets before it is thrown out, the more resources are wasted to get it to that stage" (3). When food is sent to landfill, it rots and becomes a significant source of methane; a potent greenhouse gas with 21 times the global warming potential of carbon dioxide. According to Project Drawdown, eliminating food waste is the single-most effective act we can take to reduce greenhouse gas emissions (4).
One of the biggest issues we face is society's reliance on the linear economy; an economy based on a 'take-make-dispose' system which depletes the earth's finite natural resources and generates waste. In the words of Ellen MacArthur, this system is "deeply flawed and can be productively replaced by a restorative model in which waste does not exist as such but is only food for the next cycle." This is where the circular economy comes in; an economic system aimed at eliminating the concept of 'waste,' and encouraging the continual use of resources. When we think of reusing materials, recycling often springs to mind, since it enables waste materials to be transformed into new objects or materials. However, the recycling process can be energy-intensive due to various factors including cleaning, sorting, melting, purification, granulation, and extruding. Upcycling, on the other hand, is a process of transforming would-be waste (such as by-products or unwanted materials) into new products using relatively little energy. Instead of breaking down any components, the unwanted materials are (usually) simply cleaned or disassembled before being transformed into a new product, therefore minimising carbon footprint. Unlike recycling, upcycled products are perceived to be of equal or greater quality than products that use virgin materials.
By embracing creativity, innovation and smarter resource management, upcycling plant-based leftovers presents an opportunity to create new products using minimal energy, whilst reducing our footprint on the planet by making better use of the resources that are already available.
RETHINKING WASTE
HARRY McILWRAITH
Full Circle (Upcycled Beauty Ltd) | United Kingdom
BETTINA KÖNIG
SGS INSTUTUT FRESENIUS Austria GmbH
Germany & Austria

Harry McIlwraith graduated from the University of Bath in 2009 where he studied Chemistry. He joined the contract manufacturer Acheson & Acheson ltd. Starting off as Laboratory Technician and worked his way to Technical Manager before joining Upcycled Beauty as General Manager in 2020.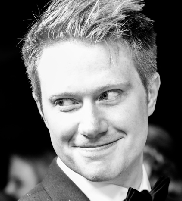 Interestingly, many beauty and personal care brands have embraced the concept of 'zero waste' in recent years. Also known as 'zero waste beauty,' this movement seeks to redesign resource lifecycles, ensuring nothing goes to landfill. It is estimated that 120 billion units of packaging are produced every year by the global cosmetics industry, much of which is not recycled (5), which has prompted numerous brands to adopt packaging-free formats or circular recycling schemes.
However, this movement goes way beyond packaging. Waste comes in many forms - a lot of which can be avoided entirely. Take, for example, the 50+ million tonnes of fruit and vegetables grown across Europe that are discarded each year, largely because they do not meet the aesthetic standards expected by supermarkets and consumers (6). The climate change impact of growing this wasted food is equivalent to the carbon emissions of almost 400,000 cars (6). The losses are significant, especially since this plant-based waste can contain a lot of valuable vitamins and nutrients that would be particularly ideal for beauty and personal care products.
Seeing an opportunity in this 'waste,' a whole host of new ingredient innovations have entered the market in recent years including skincare actives made from various plant-based by-products. Examples include active powders made from misshapen white rice, active oils derived from fruit pulp leftover from the juicing industry, and fermented extracts from gin production. Some beauty brands have even taken upcycling into their own hands such as collecting waste coffee grounds from local coffee shops to be transformed into coffee scrubs. US-based LOLI Beauty champions zero waste with their clean and waterless formulations made from organic, wild-harvested and upcycled food-grade ingredients. Their best-selling Plum Elixir contains plum kernel oil made from upcycled French Ente plum kernels.
Plant-based leftovers can be obtained from many other industries too. In an interview with Covalo, the Full Circle team explains: "Let's not limit ourselves to food waste. For example, our Charcoal CRUSH range is a by-product of a by-product; offcuts from sustainable oak fencing are used to provide restaurant quality charcoal and we upcycle the smaller pieces that they cannot use." (7)
Of course, upcycled ingredients are nothing new; indeed, the cosmetics industry began with making use of animal derived by-products such as lanolin, squalene and tallow. Although the industry has sensibly moved away from the animal origin, it is time to shift the focus onto using by-products from a plant origin.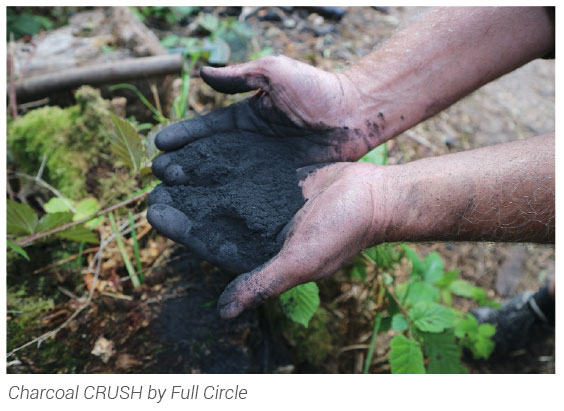 ZERO WASTE BEAUTY
Since waste is defined as "any substance which is discarded after primary use, or is worthless, defective and of no use," (8) there may be an assumption that products containing upcycled ingredients or components might be of low quality or offer little value. As a matter of fact, there are numerous upcycled cosmetic ingredients on the market that have been shown to significantly outperform conventional ingredients, proving that formulators do not have to sacrifice quality or performance to be sustainable. For example, Hemp NECTA - an upcycled active oil by Full Circle - is made from UK-sourced hemp seeds leftover from the food industry. The oil has 52% higher antioxidant capacity than conventional hemp seed oil and is a rich source of linoleic acid and vegan omega-3.
There have also been questions surrounding the perception of upcycled goods and the demand for them. Drexel University conducted some research around consumer perception of upcycled food (specifically) and found that using the term 'upcycled' would actually encourage consumers to buy products from waste materials. "I think because it's a familiar term from fashion and maybe it connotes recycling and environmental goodness. We also learned, contrary to popular belief, consumers would pay more for upcycled than conventional food," revealed Jonathan Deutsch, Professor of Food & Hospitality Management and Director of Drexel Food Core Lab Philadelphia (9).
In order to centralize the messaging around upcycling, and meet consumer demand for upcycled goods, The Upcycled Food Association has introduced a new certification mark, providing consumers with clear guidance - for the first time - about the presence of upcycled food ingredients in food, beverages, cosmetics, pet food, personal care products, household cleaners and dietary supplements.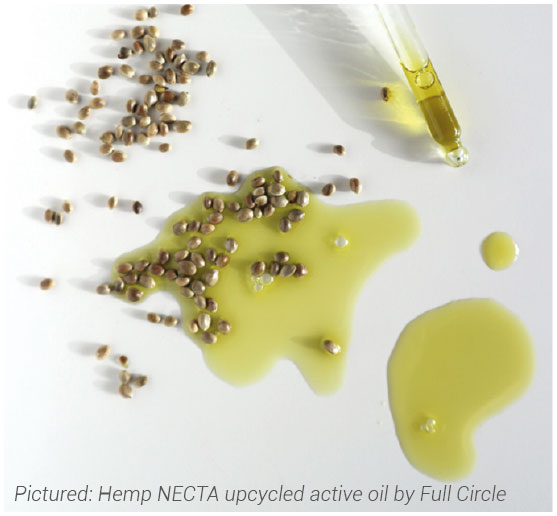 CONSUMER PERCEPTIONS
The beauty and personal care industry must move away from a linear economy which relies so heavily on using finite resources, and instead embrace a circular economy. Transitioning towards a circular system does not come without its challenges though; all aspects of the supply chain must be considered, from ingredients sourcing, manufacturing and packaging, right through to shipping, product use and the product's afterlife. From a formulation perspective, there is already a multitude of upcycled ingredients on the market with proven efficacy, presenting beauty and personal care brands with an immediate opportunity to champion sustainable alternatives. As ingredient manufacturers broaden their portfolios to cater for every formulator's need, the industry will welcome products made mostly - or even exclusively - from plant-based leftovers.
BYBI, a UK-based indie brand, has developed an internal auditing system known as The Susty Score to calculate an ingredient's carbon footprint based on a number of factors, and decipher what impact using it in a BYBI product will have on the environment. BYBI uses plant-based ingredients that are upcycled from other industries in over 50% of their range including their Strawberry Booster. "Our supplier works with juice manufacturers to collect seeds removed from the strawberries before they are juiced," explains the BYBI website. "Upcycling negates the need for a secondary supply chain to grow the fruit in order to access the seeds (at which point the pulp would be discarded), meaning there's no doubling up and therefore dramatically reduced energy consumption" (10).
BYBI, now a carbon neutral brand, is already looking at ways to become carbon negative: "2021 is about significantly reducing the amount of carbon we produce and by 2025, our goal is to be carbon negative. This means that we will be implementing processes across our entire supply chain that actually remove carbon from the atmosphere, rather than relying on offsetting." (11).
Plant-based by-products present an interesting future for packaging too. A number of beauty brands - including BYBI - are utilising sugarcane polyethylene for their product packaging which is a by-product of the sugar industry. Due to sugarcane's ability to capture high levels of Co2, the production of the sugarcane polyethylene is carbon neutral, and it's recyclable.
A research team led by YSE professor Yuan Yao and Liangbing Hu from the University of Maryland has created a high-quality bioplastic from wood by-products. "There are many people who have tried to develop these kinds of polymers in plastic, but the mechanical strands are not good enough to replace the plastics we currently use, which are made mostly from fossil fuels," explains Yao. "We've developed a straightforward and simple manufacturing process that generates biomass-based plastics from wood, but also plastic that delivers good mechanical properties as well" (12).
Taking inspiration from consumer markets, Berlin-based Kaffee Form have developed durable and reusable coffee cups composed of upcycled coffee grounds and other renewable plant-based resources that are hardened with biopolymers. Another inspiring example comes from Italian studio Carlo Ratti Associati who developed an orange juice bar that turns the waste orange peel into 3D-printed bioplastic cups to drink the contents from, demonstrating the circular economy in practice. All of these inspiring examples provide insight into the untapped value of plant-based leftovers that would otherwise go to waste.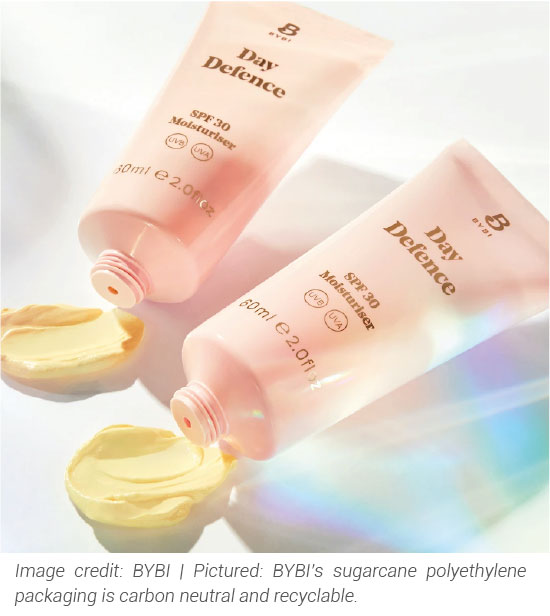 THE FUTURE OF BEAUTY
Whilst there is still so much to be done in the beauty and personal care industry, more and more brands are stepping up to play their part in producing products with the circular economy in mind. For a circular model to really work, it requires cross-industry collaboration, creativity, and innovation; by embracing collaborative partnerships and employing smarter resource management, we can collectively reduce our footprint on the planet whilst inspiring others to follow suit.
COLLABORATION IS KEY
THE FUTURE OF BEAUTY,
POWERED BY
PLANT-BASED LEFTOVERS
RETHINKING SUSTAINABILITY WITH UPCYCLED INGREDIENTS,
PACKAGING AND A CIRCULAR MINDSET*