BEAUTY DEVICES:
IS YOUR MARKETING
TOOLED UP?

The market for facial tools and devices is becoming more popular as a part of skin care necessities. Perhaps spurred on by the global pandemic, the desire to achieve a professional facial treatment at home is growing and consumers are willing to pay a higher price on devices where they are not having to spend the equivalent money in salons.
The product category falls into the novel, emerging and lesser understood area of non-cosmetic products carrying beauty claims. As such, to ensure consumers are not being misled and the competition is fair, attention must be paid towards compliant and ethical advertising. Most importantly, we must consider whether these claims have substance, or ask if they are simply following a trend?
Ayton Global Research have investigated adverts for the beauty tools and devices category and reviewed the evidence behind trending marketing claims to provide clear advice on the regulations for advertising compliance. They have commissioned a market research study to reveal consumer insights into the current market and have summarised the results.
The divide between professional beauty treatments and at-home solutions has been drawing closer over the last few years. As self-care and wellbeing has become of higher importance and technology has advanced, the market for beauty tools and devices has grown significantly. With in-home purchasing being amplified by the global pandemic, it's likely these products will become more sought after and available to the average beauty consumers skin care routine.
To encourage consumers to buy into this developing product category, it is likely to see beauty and even medical claims in advertising. A vast majority of these products do not fall into the medicinal or cosmetic product categories (unless classified as a medical device), therefore, researchers, product developers and marketing departments are left in a regulatory "limbo". Does this mean the product claims are not regulated? Every product that is advertised to consumers is regulated by the appropriate advertising standards authority in the country that the product is being sold in. Let's look at the Advertising Standards Authority (ASA) in the UK as an example of what marketers need to be wary of:
'Before distributing or submitting a marketing communication for publication, marketers must hold documentary evidence to prove claims that consumers are likely to regard as objective and that are capable of objective substantiation. The ASA may regard claims as misleading in the absence of adequate substantiation' (Ref 1).
Ayton Global Research (AGR), as consumer research specialists for claim substantiation, are at the forefront of new trends and as a result have been testing a growing number of skincare tools and devices. Therefore, they have commissioned this research to investigate what the consumers really want out of this product category and how brands can communicate this in their marketing, all whilst staying compliant with advertising regulation.
INTRODUCTION
This market research study was conducted August 2021 in the form of an online survey in the UK. The study protocol was developed and executed in accordance with Good Clinical Practice (GCP), and Market Research Society (MRS) code of conduct for ethical market research practices (Ref 2).
Volunteers
A total of 215 female (86%) and male (14%) volunteers, aged between 18 and 70 years actively participated in the study. 74% of volunteers were aged between 30-50 years. Volunteers were recruited through AGR's search engine optimisation and referrals between volunteers. Volunteers were selected according to the profile criteria that they must regularly use facial tools or devices as part of their skincare routine at home, and that they must be willing to spend at least £30 per tool or device. Eligible volunteers were invited to take part in the study and acceptance was purely voluntary.
Questionnaire, Data Management, & Statistics
The study comprised a questionnaire of a total of 12 questions relating to product and brand usage, influences, claims and advertising. The full questionnaire details are reported (Ref 3). All data was reported through the Ayton System Software.
A 95% confidence interval was applied to all report statistics. Single and multiple answered questions were analysed through Chi-Squared Test. Analysis was carried out in accordance with the procedures of the Ayton Global Research Quality Management System, ISO 9001 quality standard, ESOMAR, MRS and/or MRC principles and guidelines or any other applicable standards associated with the way in which the study was carried out.
METHODS
The standout at-home tools/devices used by the panelists were facial rollers (60%), facial steamers (48%) and face brushes (47%). It is important to note the tools used most as this will be reflected in the effects desired and claims that would make these products attractive.
95% embraced the idea of using skincare tools and devices at home that use the same modes and technologies as professional salons and spas. This reflects a market with significant growth yet to come; the transition of professional treatments to at-home solutions.
PRODUCT USAGE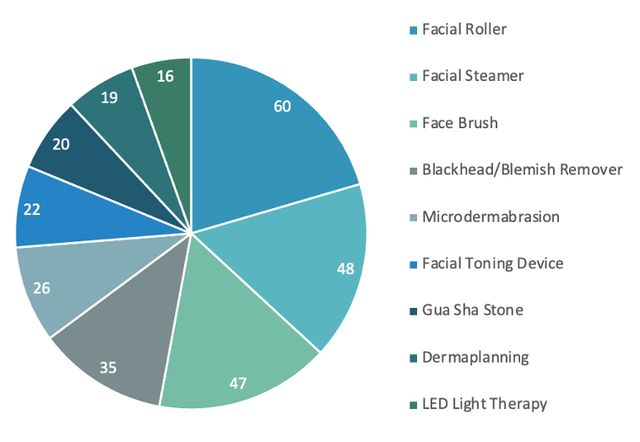 Figure 1. 'Thinking about the skincare tools and devices you use at home; which of these technologies or physical tools do you like to use?' % agreement to multi-select answer groups.
The trending effects of skincare tools and devices are to promote health, youth, and beauty. Indeed, when we asked our consumer panel what motivated them the most to use these tools and devices; 70% said healthier skin. This health aspect indicates a connection to the wider wellbeing theme, a holistic approach puts the power in the consumers hands to prevent signs of ageing through healthy lifestyle. 'Reaching skincare goals' achieved 40%, a logical response incorporating the overall importance of skin clarity required from any cosmetic product.
The claims most favoured in our survey were 'Firms' (46%) 'Boosts Circulation' (44%), and 'Tones' (43%). This strengthens how marketing claims need to reflect the overall benefits desired by the consumers. It is a brands responsibility to listen to what the consumers want and reflect the same language in marketing communication.
DESIRED EFFECTS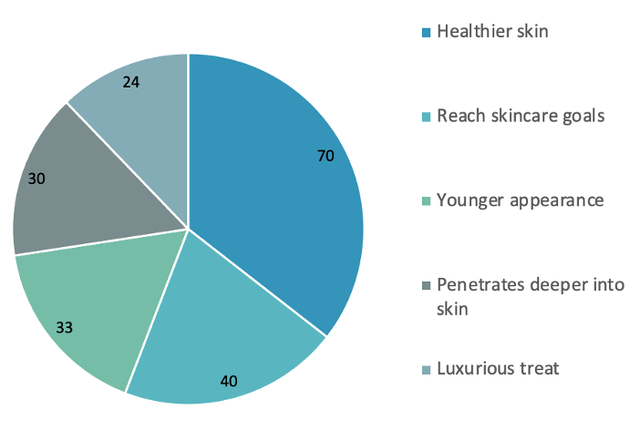 Figure 2. 'What motivates your use of skincare tools or devices?' % agreement to multi-select answer groups.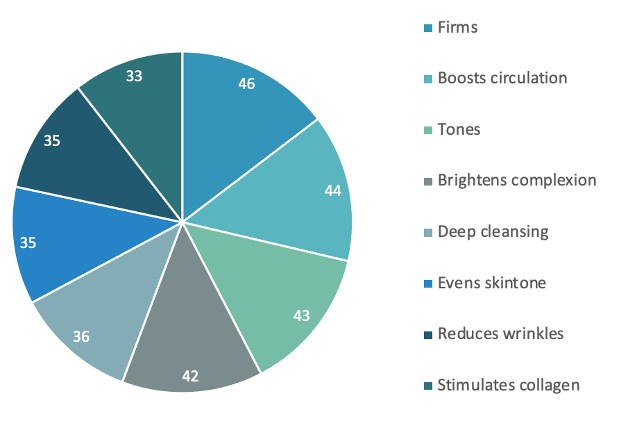 Figure 3. 'Which of these benefits or claims appeal to you most from a skincare tool or device?' % agreement to multi-select answer groups.
Consumer expectations are high since this product category is priced as high-ticket items; they need certainty the tool/device will produce the results it claims. When asked what stands out to them when researching new products, evidenced results scored highest at 73%. Data from independent research as part of the sales script aids the consumer purchasing dialogue. Tested by real consumers (57%), referrals from friends (38%), and other customer reviews (37%) reveal that real consumer opinion when captured by way of verifiable research is a powerful combination.
Despite the desire for evidenced results, when we asked our panel 'Have you ever noticed brands of skincare tools/devices using research data on their product adverts or videos' 90% said no. When brands display their positive research in digital marketing and social media, it can unlock a competitive advantage especially considering the desire for transparent results and information consumption.
EVIDENCED RESULTS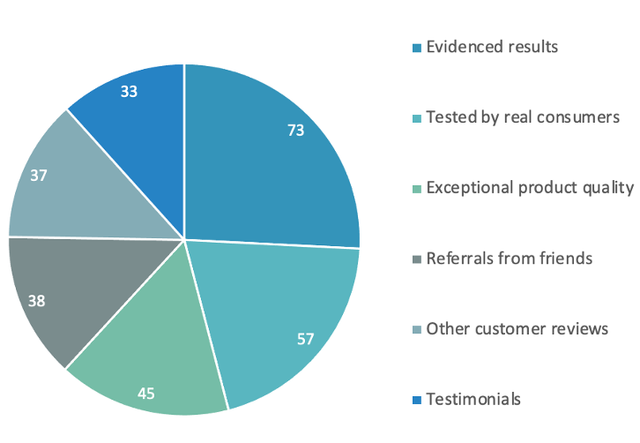 Figure 4. 'Researching a new skincare tool or device for your skincare routine, what stands out to you?' % agreement to multi-select answer groups.
When asked what brands they use for facial tools and devices, the panel overwhelmingly favoured brands producing electronic devices as opposed to traditional facial tools. Top rated brands were Philips (61%), Clarisonic (20%) and Foreo (17%). So, what are these brands saying in their advertising to come out on top?
One of the favoured brands has released a range which targets skin care concerns surrounding skin revitalisation. The tool provides a base for the 3-step range of a cleansing brush, facial massager, and eye area attachment. This range boasts many claims from radiant skin and reduction in wrinkles to reduction in eye bags and lymphatic drainage. The website states '[product name] has been tested on over 400 women, as well as numerous specialists, and their feedback is overwhelmingly positive. They're impressed by the effects [product name] has on the skin, the enjoyable and easy experience of using it, and it's uniquely elegant, feminine design.'(Ref 4)
Overall, they have shared a body of evidence regarding the claims throughout the website advertisement and have been transparent on exactly where the substantiation has come from including expert grading or consumer research sources. Transparency is key to allow a consumer to make an informed decision.
KEY BRANDS
Figure 5. 'What brand/s of skincare tools and devices do you currently own, and use at home?' % agreement to multi-select answer groups.
Digital marketing is vital to promote tools and devices to an audience with a wide age range, and diverse beauty needs. The trust message resonates highly as when consumers get serious about skincare, they develop a trusted routine that is meaningful and personalised. Tools and devices enable us to extend the length of time on skincare routines; at home pampering sessions are a necessary boost in-between professional spa/salon visits and part of self-care.
An internet search brings up a lot of skepticism surrounding claims for facial tools and when you look at the evidence surrounding many adverts, it leaves the consumer wanting information. It is largely considered that the effects of these product types are not well researched and based on traditional use or small studies. Whilst these beauty benefitting products are not a medicine or cosmetic, the consumer should still have confidence that they will deliver and as such, should be backed by robust evidence.
MOVING FORWARD